15 Light
Trailer-Mounted Arrow Panel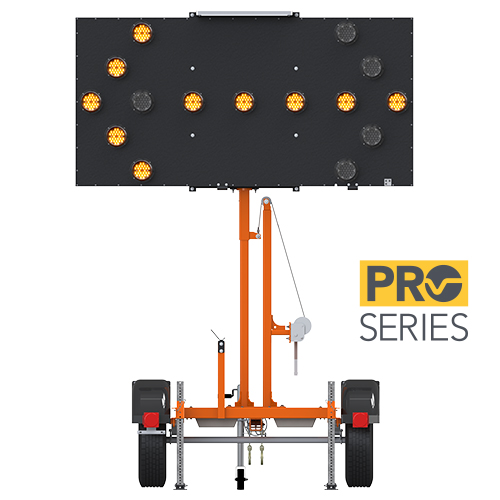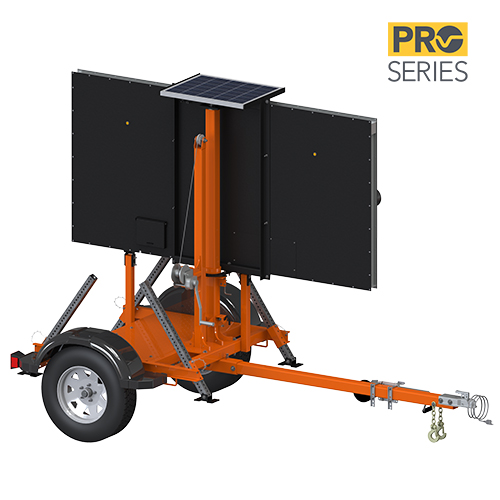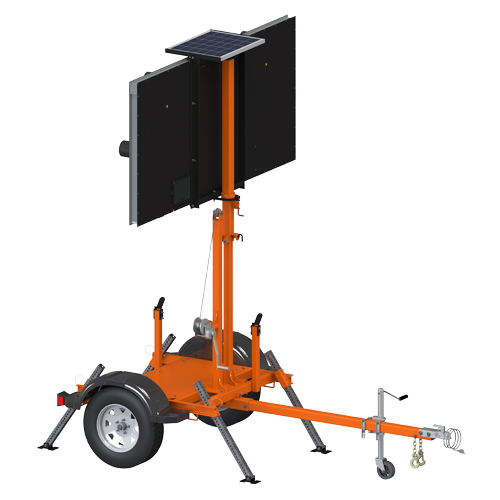 Ver-Mac's ST-4815 is a trailer-mounted arrow board with 15 LED lamps. It features our innovative Single-Mast Design, V-Switch controller, Stealth Technology, OptiBright technology and is wired to integrate the Smart Arrow board option. The unit combines energy-efficient design and high-quality construction to provide the most reliable, cost-effective and safe to operate arrow board on the market.
3.75-inch (95 mm) pressure-sensitive black and white display screen.
Real-time battery voltage level
Intuitive point-n-go icons to quickly select arrow patterns/mode.
Backlit screen for nighttime use.
Additional functionalities such as lamp diagnostics, settings, and much more. You will love working with it!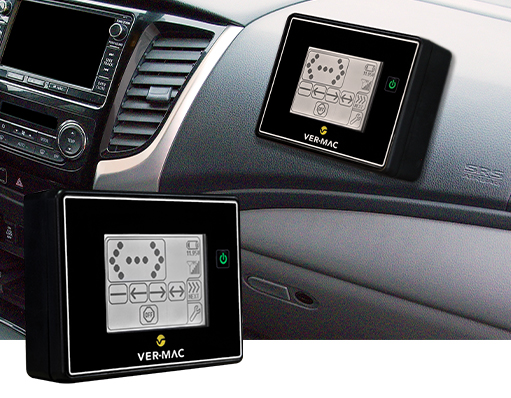 PRO SERIES FEATURES
STEALTH TECHNOLOGY
Maintenance-Free Battery
Anti-Theft Hidden Battery Compartment
OPTIBRIGHT TECHNOLOGY
Exclusive Energy-Efficient Lens Mold
Easier Replacement of Lamps
Autonomous No Hassle Performance
IMPROVED SINGLE MAST DESIGN
Diamond Plate Maintenance Platform
Rugged Indexed Rod Brake
Tongue Wheel Jack for easy and safe set up
Secure Support of Arrow board for Transport
Safely Set and Turn Arrow board to Traffic
V-SWITCH CONTROLLER
Easy-to-use rotary switch to quickly select arrow patters/mode
Real-time arrow, solar & battery status
Lockable control box for more security
Photocell with automatic adjustment
SMART ARROW BOARD OPTION
Lane closure start location
Mode displayed on arrow sign
Road name where deployed
Activity log (where, which mode, on/off, deployed)
Ability to retrofit existing arrow boards
SINGLE-MAST DESIGN
ARROW BOARD PROTECTED IN TRAVEL POSITION – Safer to use and more efficient to store and transport
LOW CENTER OF GRAVITY REDUCES WIND DRAG – Saving fuel costs
QUICK AND EASY TO SET UP IN TIGHT WORK ZONES – Saving time
ANGLE THE ARROW BOARD INDEPENDENTLY TOWARDS TRAFFIC – Safely set and turn arrow board to traffic
EASY MAINTENANCE PLATFORM – Diamond plates make it easy and safe to perform maintenance
ENERGY-EFFICIENT DESIGN
OPTIBRIGHT TECHNOLOGY
Exclusive lens mold designed for super efficient energy consumption
SOLAR PANEL
Provides maximum solar recharging during all four seasons
SOLAR REGULATOR
Protects the batteries against overcharge, over-discharge and short circuits
Both models are designed to run 12 months in most regions without manual charging
Various configurations of solar panels and batteries are available to meet your needs.
HIGH-QUALITY CONSTRUCTION
POWDER COATING SUPERIOR FINISH – Impact, humidity, salt spray and rust resistant
4 ADJUSTABLE TELESPAR – For trailer stabilization and easy transportation
TONGUE WHEEL JACK – For easy and safe trailer set up
REMOVABLE TONGUE – Saves space for storage
MANUAL LIFT MECHANISM – For quick deployment
U-SHAPED CRADLE FOR ARROWBOARD – For better support during transportation
RUGGED INDEXED ROD BRAKE – The arrow can be positioned on 209 degrees (17 deg. increments)
HEAVY-DUTY PLASTIC FENDERS – For durability and easy replacement
2-IN. (51 MM) COUPLER OR 3-IN. (76 MM) PINTLE EYE – For easy towing
DISPLAY
Arrow board panel: 48 x 96 in. (1219 x 2438 mm)
15 LED lamps with Optibright Technology
28 LEDs per lamp
2 back LED lights
DIMENSIONS
Overall length: 134 in. (3,415 mm)
Overall width: 96 in. (2,438 mm)
Operating height : 135.5 in. (3,442 mm)
Traveling width: 70 in. (1,788 mm)
Traveling height: 93 in. (2,362 mm)
OPTIONS
Weatherproof battery charger
Smart arrow board
Smart arrow board retrofit
Other options are available to meet your needs.
WARRANTY
1 year on complete trailer
2 years on electronic components manufactured by Ver-Mac